Marketplace Online Business – Legally Safe
An editorial from our long-term partner Händlerbund :
From a technical point of view, opening an online shop today is no longer difficult. The Internet is no longer uncharted territory. However, sales come quicker when retailers make use of large marketplaces like Amazon, eBay and others. The fact is, having one's own shop makes it difficult to have any reach, as opposed to working with the big platforms.

Even though this seems like the most rewarding solution, there are still many pitfalls – especially for small retailers – that can lead to (expensive) problems. How can these problems be solved and how can the danger of legal warnings be minimised? Here is some information about doing business on online marketplaces.
Always Pay Attention to the House Rules
Online marketplaces always have house rules that need to be followed. Fees, basic policies for placing images and, and, and… They don't always seem fair or make much sense, but sadly can't be ignored. These terms of use change at regular intervals and must, therefore, always be reviewed in order to avoid any problems. Failure to do so may result in penalties that can extend as far as blocking. If that happens, it is difficult to get platform operators to change their tune.
Display all the Necessary Legal Texts
Unfortunately, assuming that using a marketplace allows one to circumvent legal texts is not correct. If a retailer becomes a contractual partner, the following legal texts must always be considered:
Legal Notice
Terms & Conditions
Cancellation Policy & Sample Cancellation Form
Payment & Shipping Instructions
Privacy Policy
Battery Information (if necessary)
The necessary legal texts must be individually adapted to the respective shop on the marketplace and inserted into the fields provided there.
One point that is often raised by retailers is that there are a number of legal problems when doing business on an online marketplace which are caused by faulty or incomplete presentation. The deficiencies range from incomplete price quotations (e.g. basic prices) to faulty order processes. That means retailers need to be informed and advised in detail on how to remedy these legal shortcomings. In the worst case and for the practise of legal business, it is good to refrain from using certain marketplaces.
Correctly Present your Products
In the context of product presentation, only a photo and a crisp advertising message will not suffice in most cases, and can even lead to difficulties. This is partly justified by the marketplaces themselves, since these rules dictate the rules for product presentation. The greater danger, however, comes in the form of warnings in the context of competition violations.
Observe Copyright Laws
When you choose a product image for your product, you should always consider possible copyrights. Using other people's photos without license can lead to claims for damages. Make sure you are allowed to use the photo in question. Usually, the rights of use are given directly by the manufacturer or you create the product photos yourself.
Pay Attention to your Advertising Messages
It goes without saying that the corresponding product should also be advertised in order to win customers. Just make sure the advertising you use is not misleading.
In case of doubt, the rule of thumb is to make sure the advertising can be demonstrable. Anyone who praises their product as "the best" must be able to prove it. In addition, you may not use any advertising with so-called self-evident facts.
These include classics such as "2 year warranty" or "insured shipping"; these are already stated in the laws and don't need to be advertised. The promise of warranty for a product must be fully described in its contents. You must also specify the warranty conditions such as duration, scope of application and the guarantor.
Pay Attention to the Product Descriptions
You can't rely solely on the image of a product, because the law stipulates that a description is also necessary. The relevant product must be described in its essential, and therefore, purchase-decisive features. This may include, for example, the dimensions, colour and material of a product. The best way to find out is to ask yourself which characteristics are decisive for a customer's purchase of the product in question. In addition, retailers are strongly advised to pay attention to the price and – for articles sold by weight, volume, length or area – to the so-called basic price.
For those who prefer a visual representation:
Here you can find a check-list for legally secure business on online marketplaces: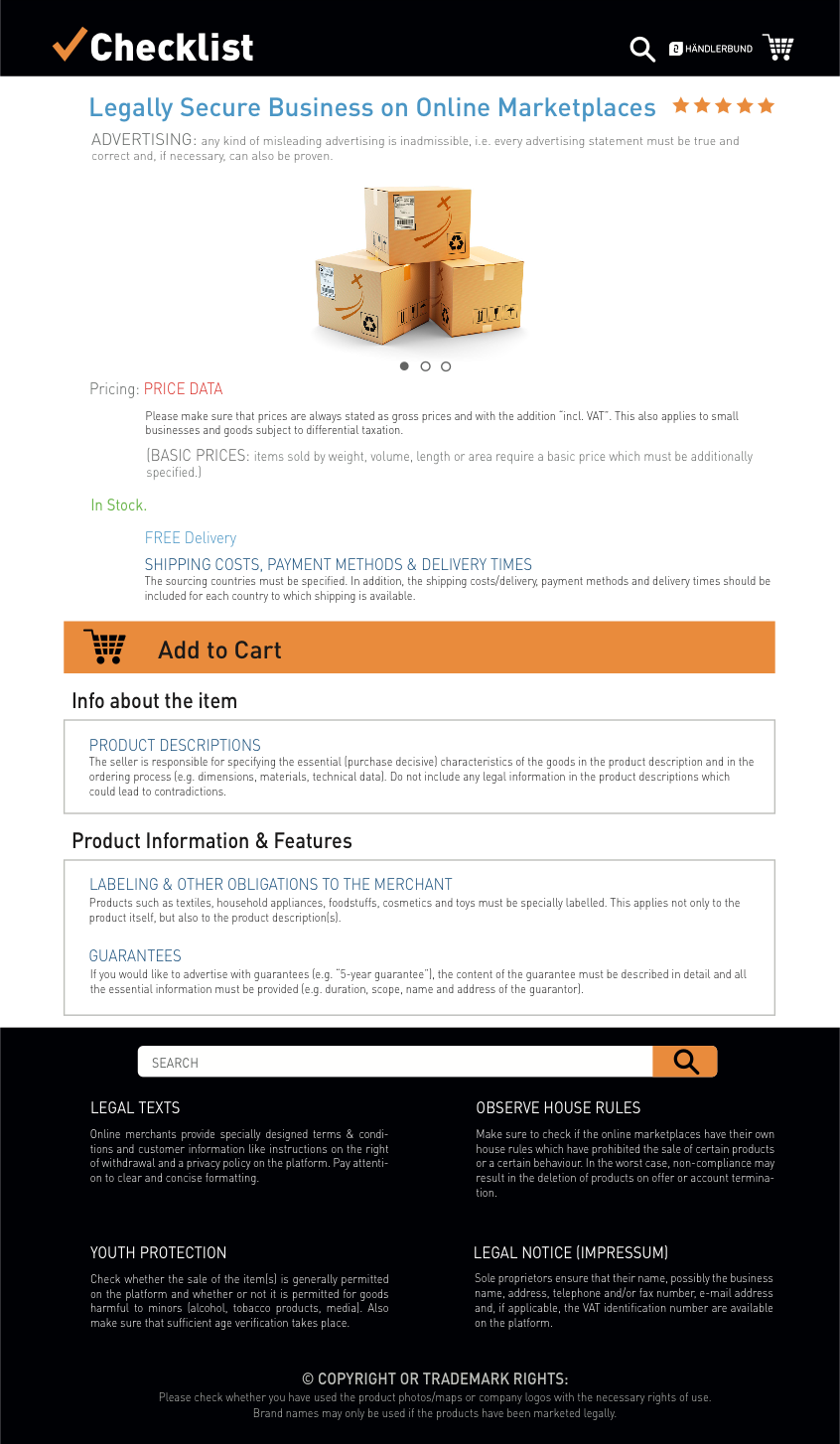 Händlerbund Helps!
In order to act in a legally compliant manner on marketplaces, Händlerbund offers comprehensive legal services and, among other things, individual legal texts for sales platforms. As a Magnalister customer, take advantage of the discount code P669#M3#2013 – a discount of 3 months off the membership package of your choice for the first year.
About the Author
Ivan Bremers is a lawyer at Händlerbund. There, he advises online merchants on legal issues and regularly reports on legal issues affecting the Ecommerce industry on the online merchants' news portal. Prior to that, he was entrusted with legal tasks at an IT company for many years.