Connect Gambio Cloud to Amazon, eBay, etc. – Try It for Free With magnalister and the Coupon Code "gambiocloud"
In cooperation with our shop system partner Gambio, we offer all magnalister customers to connect one marketplace to the new Gambio Cloud shop system starting at zero Dollar. To take advantage of this offer, sellers have to use the coupon code "gambiocloud" when registering their account at www.magnalister.com.
The New Gambio Cloud All-In-One Ecommerce Solution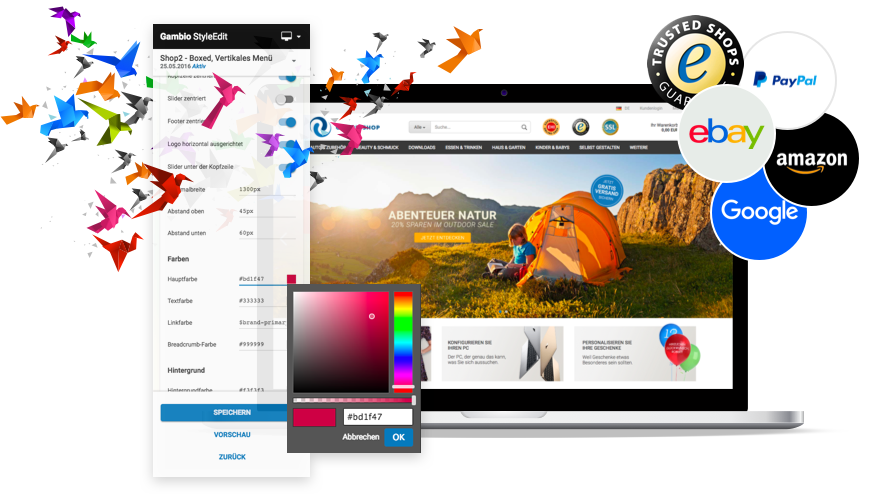 With more than 25,000 customers, Gambio is one of Germany's leading shop systems. For the first time, the webshop creator rolls out its software as a service (SaaS) solution "Gambio Cloud." The new All-In-One Ecommerce system offers the following advantages:
You don't need your own server capacities – your webshop is hosted in the cloud

All features and integrations to operate your own webshop are included

You can use some third-party services for free, which would cost you otherwise

You don't have to bother with updates and maintenance

Gambio Cloud is optimized for all kinds screen sizes

Gambio Secured Payments allow for stress-free payment processing

You don't need to know programming to operate a Gambio Cloud shop

Customizable design templates

Countless possibilities to optimize the webshop for search engines

Gambio support is included
For more details about the new Gambio Cloud, go to https://gambio.com.
This is included in magnalister's free Gambio Cloud offer
If you're a seller using the coupon code "gambiocloud" while activating your shop from your magnalister account, you can take advantage of the following services for free:
A total of 20 product uploads and orders (combined) per month

Connect to 1 marketplace at no charge

Receive customer support via phone, e-mail, and live chat
Note: As soon as you have exceeded the limits above, and your free 30 day trial with magnalister has ended, your "Gambio Cloud" plan will become subject to charge. Regular prices for the plan you selected (Business, Ultimate, Flat) will then apply.
Here's How Sellers Can Get This Offer
The magnalister plugin is a core component of Gambio Cloud, which means you don't have to install it. This makes your free sign-up for magnalister super easy:
1. Open a magnalister account at https://magnalister.com
2. Confirm your account via email and register your Gambio Cloud webshop via the link in the e-mail
3. Use the coupon code "gambiocloud" while activating your Gambio Cloud Shop on the magnalister website and choose the "Gambio SaaS" plan
4. Choose which marketplace you want to connect
5. Finish activation, prepare your products and upload them to the marketplace
Open a magnalister Account now