magnalister Extension for Adobe Commerce (Magento 2) Now Available as "Early Bird" Version – Get It Installed for Free Now!
From now on magnalister is also available for Adobe Commerce (Magento 2)! An early bird version of our extension for Adobe Commerce (Magento 2) can now be downloaded from the magnalister website.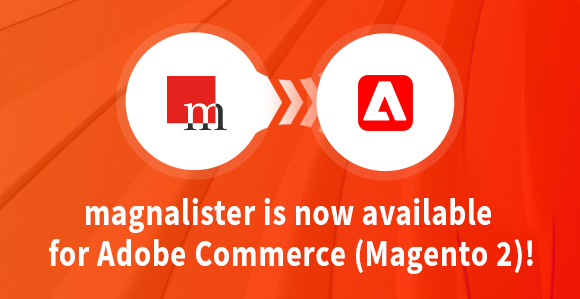 To install the magnalister extension in their Adobe Commerce store, merchants can simply download the .zip file and follow the instructions inside to install it.
As an alternative, merchants can also use the magnalister installation service: To do so, magnalister customers simply log in to their magnalister account, click on "Installation" and fill out the installation request. The first 20 customers who enter the coupon code "AdobeCommerce22" when requesting the installation service will receive the installation free of charge, saving them €29.
We have also submitted the extension to the Adobe Commerce Extension Marketplace, so it should be available there soon.
The Adobe Commerce store system is also widely used under the name "Magento 2". However, since Adobe bought Magento some time ago, it will only be referred to as "Adobe Commerce" in the future. The store system, which has been available since 2021, is aimed at medium-sized and larger online retailers who highly value store individualization and scalability. In addition, it should also be relevant for users of Magento 1, as the life cycle of the store system is coming to an end.
DOWNLOAD MAGNALISTER FOR ADOBE COMMERCE NOW