New Marketplace Connection to Etsy with magnalister
Etsy was founded in 2005 as a marketplace where handmade products, vintage and art supplies can be purchased and sold. As a niche-marketplace Etsy opens new possibilities for merchants to reach new customers and to increase conversions. Selling on Etsy is even more easy with the magnalister interface.
Internationally successful on Etsy with magnalister

The marketplace Etsy is very successful especially in the USA and it's headquarter is based in Brooklyn, New York. Since 2012 Etsy is also active in the european market. With the magnalister connection to Etsy online sellers can now offer their variety of goods fast and easy in many countries to reach new customers.
Selling successfully on Etsy with magnalister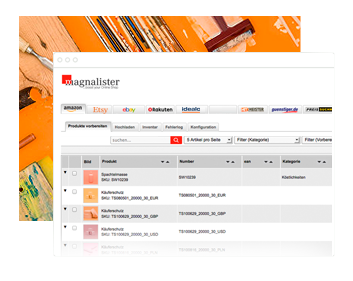 The magnalister plugin is seamlessly integrated in your online shop platform and is thereby taking over many tasks like item upload, order import and many more. This gives you the advantage to be able to focus on creating new handmade and vintage products.
magnalister offers a 30 days free trial period.
Key Facts to Etsy
Founded 2005
744 employees (31. Dezember 2017)
345 Mio. products that can be bought
1,9 Mio. active sellers
33,4 Mio. active buyers
You can find more information to Etsy via the following link: https://www.etsy.com