Fulfillment by Amazon: Here's How You as a Merchant Can Profit From Amazon's FBA program
Successful online merchants satisfy the demanding and diverse expectations of their customers. Many customers take intuitive shopping experiences, competent customer service, and fast delivery times for granted. Your customers orientate themselves at the industry standards of Ecommerce giants such as Amazon, eBay, etc.
With Amazon FBA Business, the world's leading online marketplace offers an integratable distribution and service network throughout all sales channels. Instead of spending loads of energy and money to develop your own logistics structure, you can just sign up for the Amazon FBA program and take advantage of the following features:
Store your products at Amazon distribution centers
Let Amazon package and handle your merchandise
Distribute your products Europe-wide within the shortest time
Centrally organize your logistics processes, even when you use other platforms than Amazon to sell your products
Meet requirements for "Prime" status and boost your product on Amazon
This article is an overview of which features the Amazon FBA Business logistics service offers, what the pros and cons of an Amazon FBA Business are, as well as what you need to know as an online merchant to successfully get started with Amazon FBA Business.
We will also explain how the magnalister marketplace plugin can effectively support you when it comes to distribution and order management. Our plugin helps you sell your products from your own webshop and distribute them to marketplaces such as Amazon, eBay, etc. Combining Amazon FBA Business and magnalister will let you automate most of your Ecommerce processes and save you time and money when it comes to the logistics chain as well as distributing your products through multiple channels.
This means the admin efforts of your Ecommerce business are reduced to an absolute minimum, so you can focus on the more important things, such as expanding your business.
Learn more about Magnalister now
Table of contents
Rapidly reach clients Europe-wide with Amazon Fulfillment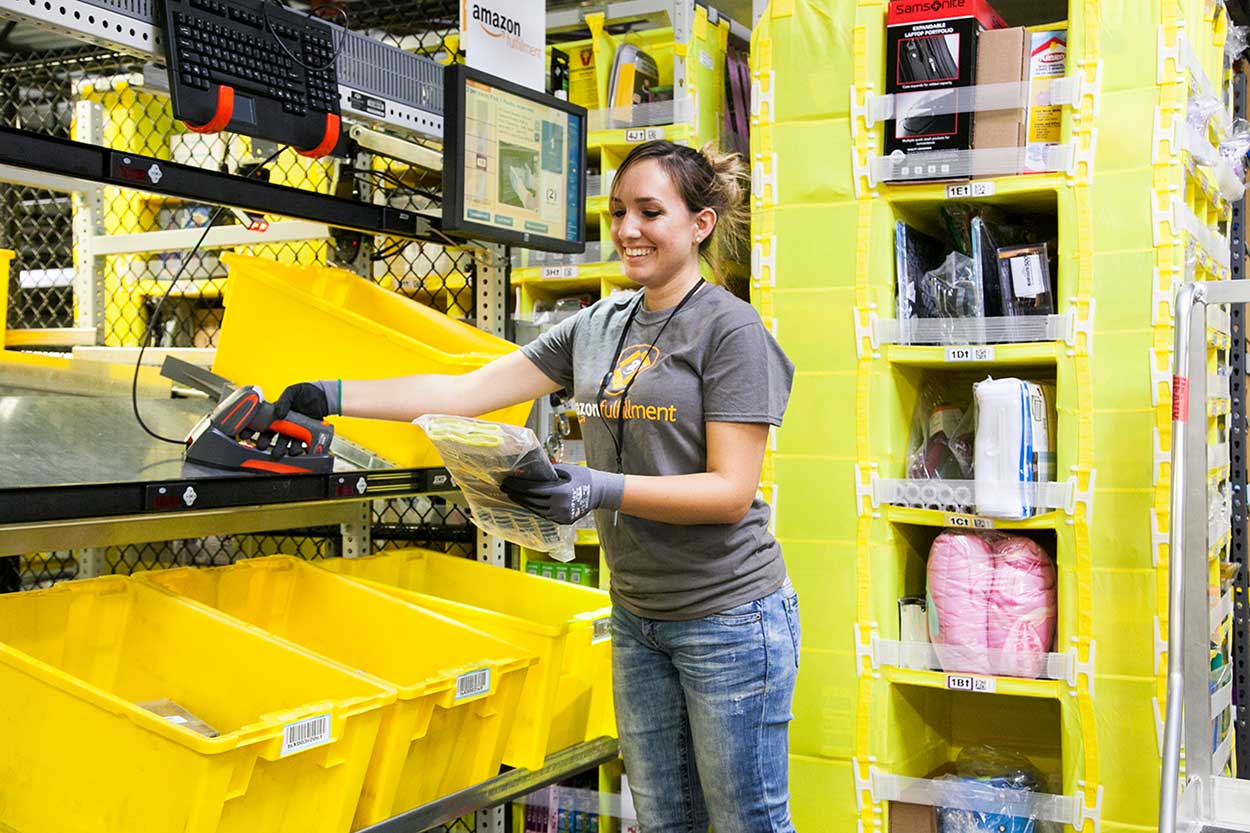 If you choose to distribute your products with Amazon FBA Business, your merchandise will be stored in numerous Amazon logistics centers throughout Europe and will be sent off from the closest location. That's how your products are already closest to your customers. This lets you as a merchant profit from the following two major advantages: Your merchandise is stored reliably and distributed quickly. Therefore, you don't have to invest anything into expanding your logistics network. Amazon FBA Business also supports international deliveries.
The Amazon FBA Program is a One-Stop-Shop: Amazon FBA Business provides you with both service and distribution
Amazon Fulfillment not only allows you to store and transport your merchandise, it also lets you take advantage of the following services:
Labeling of your products with provisioned product information (0,15 EUR fee per article as of 21 October, 2019)
Packaging your merchandise with the Amazon logo, incl. protective air bubble wrap
Optional gift wrapping, on demand of client
If your customers have questions or want a refund, you can use the Amazon customer support service. They're available 24/7 for speaking the language of your customer. This makes it easy for you to go international without any additional expenses. It's actually quite the contrary: You're not tied to any office hours and can organize your customer support more effectively.
Tap into Amazon's most lucrative customer group: Amazon Prime users
Amazon FBA Business paves the way for Prime, from which you as a merchant and your customers can benefit. Prime is a simple word with much power behind it: as soon as your product carries the logo, Amazon Prime customers (of which Germany alone has 17 million) can order premium delivery service. Usually, this is free and customers will receive the product within one or two working days. But that's not all: Prime is associated with good product quality.
Both make your products very attractive for your potential customers on Amazon. Prime users, who are Amazon's most loyal and lucrative customer group, profit from various advantages along with the Prime status of your products. Other users of the marketplace will also notice your offers because of the easily recognizable Prime logo.
That's how the Prime status increases the visibility of your product. Oftentimes, these marked products will be shown first among the search results, before comparable merchandise that don't carry the Prime logo. Even if you choose to raise your prices, Prime status has priority for lots of buyers.
Also when you're not with Amazon FBA Business, you as an online merchant can take advantage of the Prime status; however, among a lot of other requirements, you are obligated to process your orders on schedule 99 % of the time, your cancellation rate has to remain below 1 %, and you have to send out at least five Prime orders daily.*
But if you join the Amazon FBA program, you will not be subject to any of these requirements. You just have to make sure that you always have enough products in stock in the FBA warehouse. If you don't, customers may complain about delayed delivery times despite your Prime status.
When selecting products for Amazon FBA, you should check if the merchandise is reliable. The following products are excluded from the Amazon FBA program:
Articles that require special delivery service due to their size or condition
Articles that are not for people under 18 and that have to be sent via a special delivery service
Personalized gifts cards because they cannot be sent via Prime
Your spot in the Buy Box
More than 50,000 merchants in Germany sell their products via Amazon.** Inevitably, the same or very similar products are offered.
In this case, there are various factors which decide which product a customer will finally order. One of them often neglected is the Buy Box. Amazon does not position the important Add-to-cart-button at the same prominent spot in the top right corner for every product. Instead, a complex algorithm determines the layout.
When using Amazon FBA Business, your chances of having your product shown in the Buy Box increase significantly. In this case, the button shows up first on the product detail page.
Will Amazon FBA be worth it for me? Here are some important factors you should know about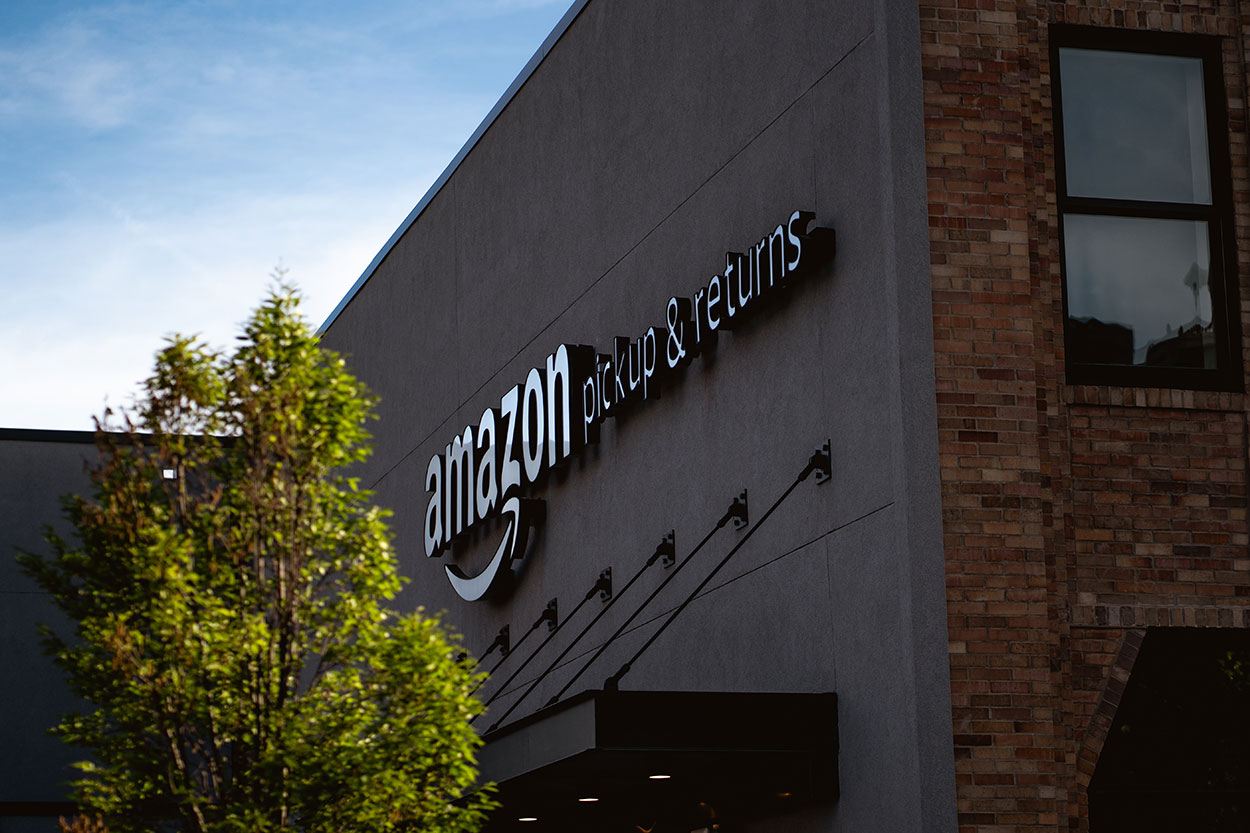 As much space as needed: storage capacity in Germany and all over Europe
The amount of merchandise you send to Amazon logistics centers can vary: Becoming an Amazon FBA seller means there are no minimum requirements for the amount of your products as well as no limit upwards. Amazon calculates the fee for the FBA warehouse monthly per volume that has been occupied in the logistics center.
Before delivering your products via Amazon, you should consider how many products you are actually going to send out. Not stocking enough products causes a shortage in supply resulting in longer waiting periods for your customers. Shelving too many products that do not get bought leads to an increase in storage charges.
In October 2019, Amazon in Germany implemented the Inventory Performance Index. Inventory, sales numbers, and fees are drawn up by Amazon FBA customers. To avoid any restrictions when it comes to logistics capacities through Amazon, planning your sales volume meticulously is a must.
Here's how to grow your Amazon business internationally
The Internet brought the world closer together – also when it comes to selling products. Most customers have no clue that their orders arrive from all over Europe. They rather care about delivery times and product prices. With Amazon FBA Business, you profit from this development because Amazon deliveries work seamlessly domestically as well as within
many European countries.
If you want to sell to various European countries, you can store your merchandise in Germany. From there, your products are distributed across borders.
Not all merchandise is stored in Germany if you want to do business across Europe. Amazon FBA Germany distributes their products automatically and, depending on demand, to various logistics centers in Europe. However, this means for you that you only pay your local Amazon distribution fees. This is only profitable for you starting at a certain amount of articles that you're delivering to other countries.
On top of that, you can take advantage of the opportunity to send your FBA products directly to an FBA warehouse in different country. Just be aware that you will be responsible to manage your inventory as well as planning and forecasting demands.
Selling your products worldwide is also possible with Amazon FBA Business. You receive the most important information about delivering products to each country in Amazon's Solution Provider Network. You definitely have to figure out the following: which taxes you will have to pay where, which rules and regulations apply, and what are the various durations for different processes?
These are the costs of Amazon FBA
The fees for the FBA warehouse that you are paying for your products to Amazon FBA Germany are calculated using the average daily storage volume in cubic meters as well as the time frame in which your products are stocked in the logistics center. Amazon additionally differentiates between main season (October through December) and shoulder season (January through September).
We put together a few price examples in the following bullet points (as of October 16, 2019):
Cost of one product in standard size (weight up to 12 kg, length up to 45 cm, width up to 34 cm, height up to 26 cm): 36.00 EUR net during main season and 26.00 EUR net during shoulder season per cubic meter and month
Cost for clothes and shoes: 21.60 EUR net during main season and 15.60 EUR net during shoulder season per cubic meter and month.
Cost for oversized products: 25.00 EUR net during main season and 18.00 EUR net during shoulder season per cubic meter and month.
Depending on storage location, type of product, measurements and weight, there are additional fees for products as well as different delivery fees (as of October 16, 2019):
Depending on weight between 2.89 EUR and 5.50 EUR for deliveries of standard packages within Germany
If you send off products with the same measurements to other countries, costs are between 4.61 EUR and 13.07 EUR
Deliveries of standard oversized (120 x 60 x 60) packages cost between 5.53 EUR and 9.05 EUR domestically, and between 13.00 EUR and 20.54 EUR internationally
For example, if you want to store and deliver a toaster with Amazon FBA Business, you have to factor in the following cost structures:
Delivering a toaster with the measurements of 25.5. x 18.5. x 17 cm and a weight of 2.2 within Germany costs 4.34 EUR

Delivering the toaster to another European country will cost you 9.61 EUR

If you deliver the product within another country, your delivery fees will vary according to the country's rules

The storage fee for one toaster in all three examples comes out to 0.29 EUR
Our tip for merchants: Should you decide to take part in the program of Central Europe, you save 0.50 EUR per delivered product. That means you have to agree to store your merchandise in Poland or Czech Republic; however, this may cause slight delays in delivery times than sending your product out from a domestic logistics center.
Cost overview for delivery and storage fees
Rules and Requirements
You have to factor in a few rules and requirements if you want to deliver via Amazon FBA Germany.
Products that weigh more than 30 kg cannot be sent via Amazon. This list also names a number of articles that cannot be delivered through Amazon.
Additionally, there are a few rules for your inventory: If you labeled a product as "new," this product has to meet certain criteria and comply with certain packaging as well as material conditions that are accepted from the logistics centers. Your merchandise cannot show any signs of usage and has to be packaged according to its material, i.e. if it is sensitive to shock or breakage.
Amazon reserves the right to request additional protective wrapping for certain products to guarantee the intactness of the product during the entire delivery process. Products also have to comply with labeling guidelines. The barcode has to be readable and intact when the package lands at the Amazon FBA warehouse.
Depending on the case, if you receive a purchase return, you may be eligible for a refund. The amount needs to be settled with the Amazon Service Team directly. If anything gets lost or damaged during delivery, you may also be eligible for a refund. In this case, you also need to contact the Amazon Service Team.
All rules regarding selling and delivering through Amazon
What's the difference between the Amazon FBA Business model and dropshipping?
Usually when working with Amazon's delivery services, merchants send their products to the Amazon FBA warehouse. However, you can also earn money with Amazon FBA without ever having to physically touch your products.
This is called dropshipping. That means you as the merchant act as the middleman between producers, customers, and logistics companies. Selling your merchandise happens via your own online shop or shopping portals such as Amazon, eBay, etc.
Being in direct contact to the producer or a wholesaler would benefit you for this type of Ecommerce business because that will guarantee the availability of the products you sell. On the other hand, you can negotiate price and logistics conditions directly.
Dropshipping is a fantastic option for merchants who know how to market a product digitally. Your main task consists of positioning your merchandise online in a way that stands out to your ideal audience among a similar range of products.
If you as a merchant want someone else to handle logistics and production of your products, and solely focus on marketing your products, dropshipping is an excellent opportunity for you to get active with your Ecommerce business.
So, when is an Amazon FBA Business profitable?
It does not matter if you are a total newbie or an experienced Ecommerce merchant, Amazon FBA can definitely be profitable for you. Amazon FBA Business offers you numerous advantages to support your online business, starting with a transnational storage system and delivery, allowing you to access Prime status and customers as well as handling refunds.
Flexible storage offerings in the Amazon logistics centers, let you stock small or large amounts of your product(s) and have Amazon deliver them safely and soundly. You definitely benefit from knowing how often your products are sold. If you stock too many products via Amazon FBA Business, you end up paying unnecessary storage fees. That applies the same the other way around: If your product sells too frequently and you do not have enough in stock, you cannot deliver, even though additional revenue would be possible.
Knowing your international sales is also important: Is it profitable to bet on pan-European deliveries – meaning to send your products to other continents – or are there not enough customers overseas? That's why you should know from the start which countries could be relevant for your products. If you're curious about some statistics for similar products, statista.de can help you.
Do you want to know if your Amazon business is profitable? Try Amazon FBA's calculator to find out about your current delivery fees compared to those of selling and delivering via Amazon FBA Business.
Getting started with Amazon FBA: Here's a step by step tutorial with tips and requirements for Amazon FBA Business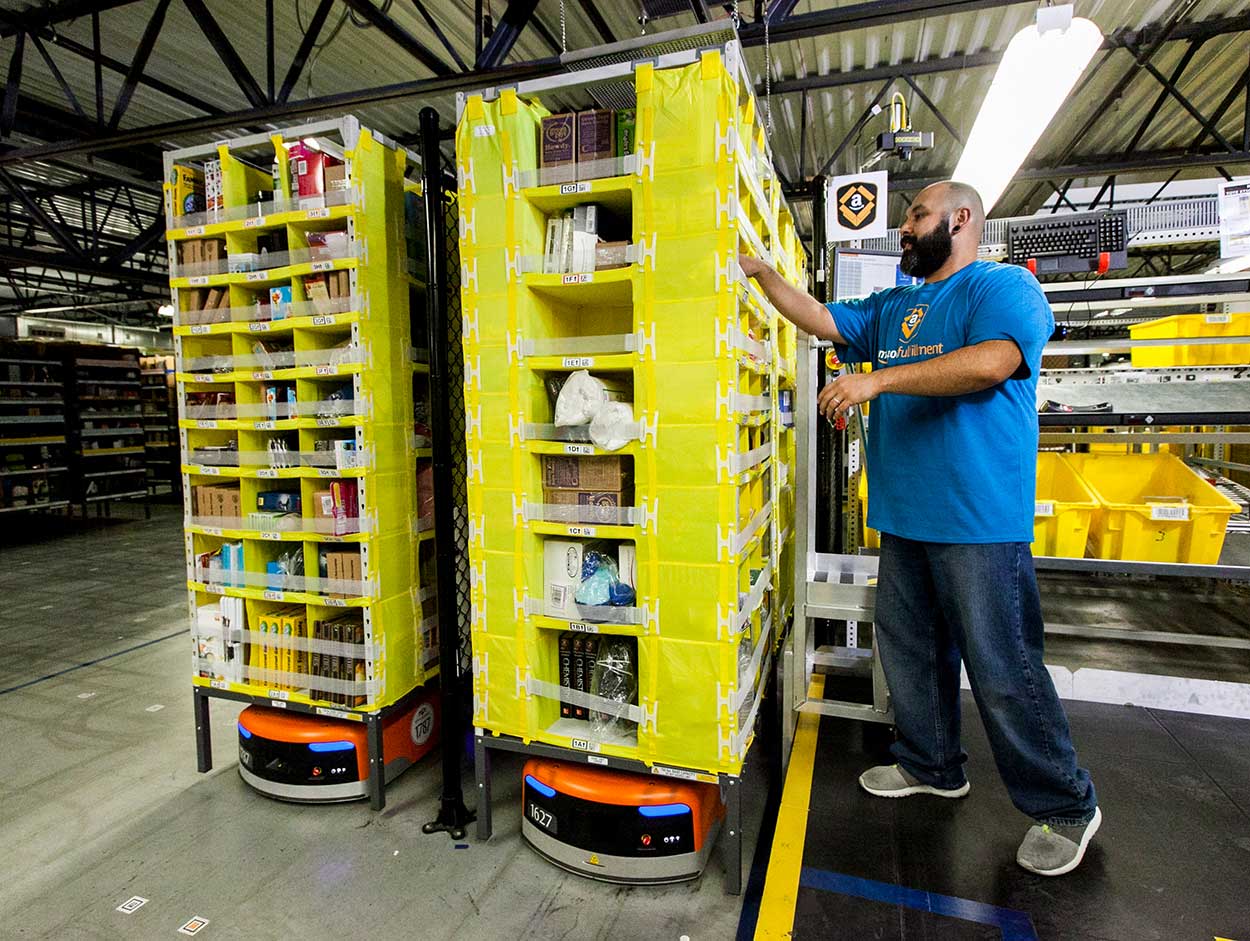 Select the right products
To become a successful Amazon FBA seller, your products should meet the following requirements:
Find a suitable niche. If you can stand out from your competitors by offering a certain added value to your customers, chances are high that your product will land in digital shopping carts.

To avoid refund requests, your product should not be too prone to damages. Even if Amazon adds extra packaging to fragile merchandise, transport routes may present additional hurdles. That reflects on your product reviews on Amazon.
Because you have to pay storage fees according to cubic meters and delivery fees according to the weight of your products, it is advised not to offer any oversized and / or overweight merchandise online to avoid too many additional storage or transport charges.
Make sure you calculate your costs realistically. Keep your profit margin per sold product in mind. Also, you should only sell products on Amazon FBA that are high in quality. If you don't, you have to anticipate poor product reviews, as mentioned above in bullet point 2.
Signup for Amazon FBA
You have to be registered as a seller on Amazon to be able to use the Amazon FBA service. That means, you'll already have to have registered your business, opened a business account, and applied for a tax identification number before you can use Amazon FBA Business.
As soon as you've registered your Seller Central account, you can click onto the "Inventory" tab followed by "Manage inventory." Here you can choose all products that you want to deliver through Amazon FBA Business. Then you'll need to click on "Actions" followed by "Change to Amazon FBA."
Labeling Options
There are three options for labeling your delivery that will go to an Amazon FBA warehouse: You can print an Amazon barcode via your Amazon Seller Central account, use the labeling service of Amazon FBA Business or choose an already existing barcode from a producer.
In the first case, you can find the Amazon barcode on the page "Label products." Make sure to place the new labels over the original UPC, EAN, or ISBN barcodes so they are covered.
Alternatively, Amazon lets you label your products yourself before delivering them or at the location of an Amazon logistics center for 0.15 EUR per article (as of October 21, 2019).
If your product has a unique UPC, EAN, or ISBN barcode that belongs to a single Amazon Standard Identification Number (AISN), you can enable it for mixed inventory. Hereby, the Amazon FBA product will be offered along with the same products from other merchants in the Amazon FBA warehouse. That means the products reach their buyers faster because Amazon can use the stock of various different merchants.
Media articles (books, CDs, DVD, video games, etc.), clothes, shoes, jewelry, watches, as well as other used articles are not allowed to be sold under the Amazon FBA Business option of mixed inventory without a label.
Send out your first delivery
To create a delivery, you have to indicate the amount for every article as well as the address from where you are sending your products. To send your products to the Amazon FBA warehouse, you can either choose your own transport company or choose a service provider from Amazon's transport partner program. Amazon has already taken care of negotiating fees with their carrier partners.
After that, you receive an address and the ID of the Amazon logistics center to which you will send your inventory.
Regarding packaging, you as a merchant have to consider the following, so that starting your Amazon FBA Business can move along seamlessly:
Don't send media articles (books, CDs, DVDs, video games, etc.), clothes, shoes, jewelry, watches, or used articles without a label
Don't put the label on the parts of your package that could easily be destroyed by tearing or cutting it open
Don't send out packages that weigh more than 15 kgs without an according caution label. Products that weigh more than 30 kgs on their own will be rejected

Never combine different products into one package
You can follow the status of your delivery in the "Delivered" Menu of your Seller Central account.
International Deliveries
Sending your products to other countries will cost more. Mostly, the same regulations as when you deliver your product from a German logistics center apply but details get trickier: The UK, France, Italy, and Spain, for example, add extra fees for oversized packages.
Delivering your products overseas calls for specific costs and requirements that vary from country to country. You should inform yourself before sending out a product (also with the help of the Amazon Solution Provider Network).
Thanks to multi-channel distribution, Amazon FBA Business works also in combination with other distribution platforms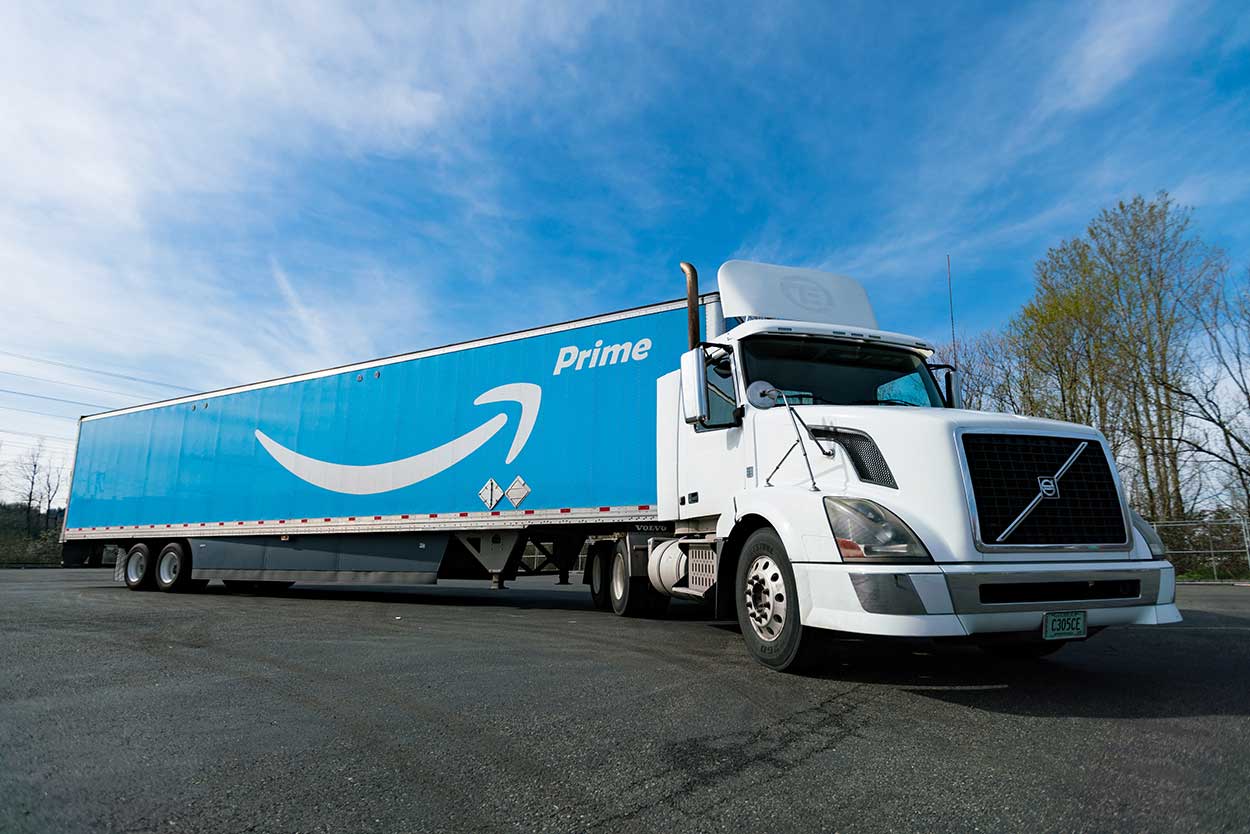 You can also use Amazon FBA when selling your products via other online marketplaces, such as Kaufland.de, Etsy, or your own online shop. This means, you can take advantage of everything Amazon FBA Business has to offer. The only requirement is opening an account with Amazon Seller Central.
The FBA program offers three different delivery options:
Standard delivery (2-5 business days)
Express delivery (2 days)
Priority Delivery (next day)
When selling your products through Amazon using multi-channel distribution, know that not all online marketplaces allow deliveries with Amazon FBA. For example, eBay's rules prohibit the use of other logos on packaging materials, which doesn't comply with Amazon's delivery service. That means you need to compare beforehand whether Amazon's delivery service is compatible with respective Ecommerce channels and their rules.
Here's what the Amazon FBA program cannot offer: managing your products and orders centrally from your own webshop. This is where the marketplace plugin magnalister comes into play. magnalister is available for many shop systems and lets you sell your products directly from your own webshop to Amazon (and many other marketplaces). With only a few clicks you can connect Amazon to your shop system and reach millions of new customers – worldwide.
Next to the many automation features when it comes to uploading your products and managing your orders, our plugin also allows you to offer your products for specific markets. That means you can also target Amazon marketplaces in the UK, Italy, Spain, France, as well as the US and Canada. You can offer various product prices in these different countries, for example.
This goes perfectly well together with the Amazon FBA program, with which merchants can easily deliver their products globally. At the end of this article you will find more information about magnalister's core features and how they are a perfect match with Amazon.
Selling and delivering via Amazon: How you can succeed when entering the world's leading digital marketplace
To use Amazon's FBA Business services, you do not necessarily have to sell your products via Amazon; however, you need a Seller Central account. Here are a few things you need to consider to get this right:
You have to register for sales tax. You can get help at the

Sales Tax Knowledge Center

of Amazon

Choose between a basic account (if you sell less than 40 articles per month) and a professional seller account (monthly subscription fee: 39 EUR)
If you choose to register for a professional seller account, you can decide whether or not you want to offer your products internationally

Add your data to your Seller Central account after choosing your account option

Prepare enough images and product details for each of your articles
After you opened a Seller Central account, you can start adding your products, selling and delivering them.
After the first steps: Here's how you continue as soon as you send out your products with Amazon FBA Business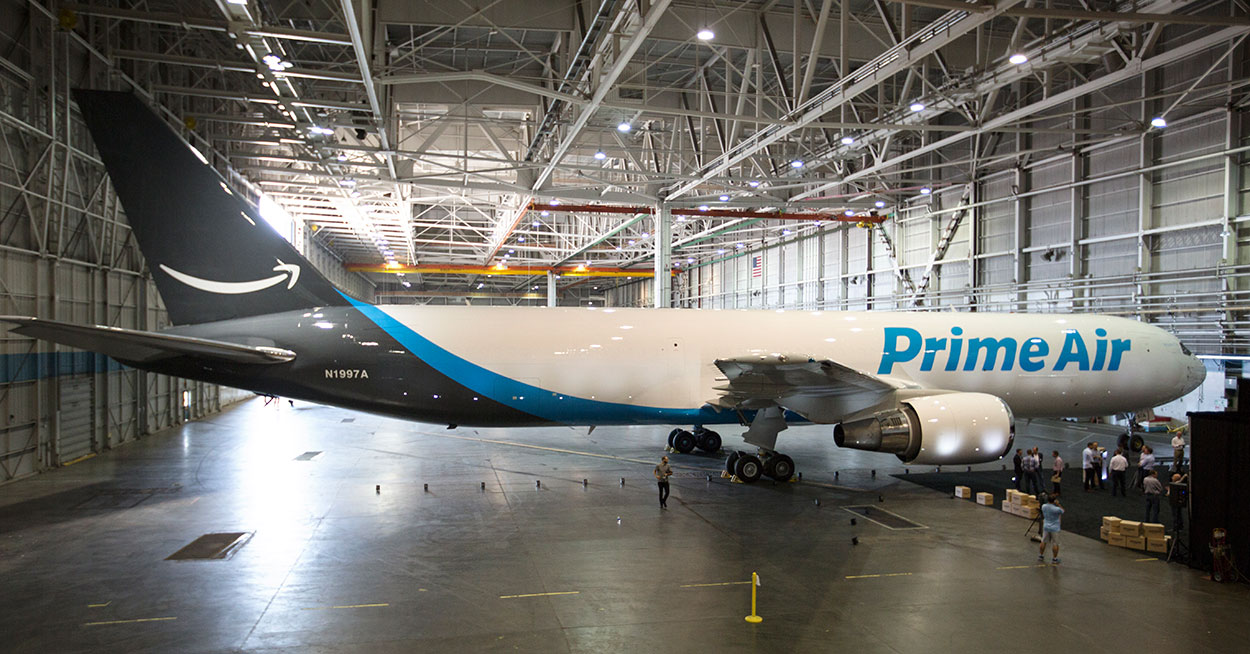 The detailed scalability of selling and delivering helps optimize your business
Once you start selling and delivering via Amazon, you can view various performance indicators under "Statistics and Reports" in your Amazon Seller Central account at any point in time. Starting with information about how many clients have viewed your product to order numbers until sales numbers – plenty of data is available.
This data is available for up to two years. Next to the automated analysis, you can also use the Amazon Sales Coach. This coach calculates based on your inventory and sales numbers whether or not it would make sense to stock more products. It analyses your chances of selling in other countries and shows you if similar products are offered at a low price.
From customer inquiries until Prime delivery and returns of goods: Here are some helpful answers to customer questions about Amazon FBA Business
In the process of selling through Amazon, your customers may have questions which are especially related to Amazon FBA Business. Here you can find a few FAQs with their respective answers:
Why has my package not been delivered within 24 hours even though I ordered via Prime?
Delivering products via Prime usually takes two days. Amazon tries to test the 24h promise in the US, but here in Europe, this timeframe can't always be guaranteed. Especially during peak hours and Christmas time, Amazon cannot work through all orders as promised, despite its well-developed logistics.
I want to exchange my product. How can I get my money refunded?
Amazon's customer support service takes care of returning a product which has been delivered via Amazon and all questions regarding this. In Amazon's return center, your customers will receive all the answers to their questions step by step.
I ordered an article meant for people over 18. Can my wife receive it?
If you send off articles meant for people over 18, such as beverages or food that contain spirits, or certain movies or video games, the recipient has to be present to accept their merchandise. They will only receive their product after presenting a valid ID or passport.
Your logistics with Amazon FBA Business are working? Then get started with distributing your products through more channels
You registered for Amazon FBA Business, your products are stored in FBA warehouses all over Europe and Amazon's customer service takes care of answering questions and concerns of your customers.
Now it's about time to win new customers for your products – on multiple platforms. magnalister lets you connect global online marketplaces such as Amazon, eBay, Etsy, or Google Shopping as well as the most popular national marketplaces such as METRO Marktplatz, Kaufland.de, cDiscount (France) or Ricardo (Schweis) to your webshop.
Profit from the plugin's following core features:
Upload products: Save time and efficiently upload your articles to all marketplaces
Synchronize prices: submit prices fully automated or individually (per marketplace)
Synchronize inventory: at any time between shop and the marketplaces
Automatic order import:

import and manage marketplace orders

Match attributes: match product variants and attributes with the ones of marketplaces***
Synchronize order status: submit order statuses (i.e. sent or canceled) to marketplaces
Customize plugin:

via hook points according to your wishes

Invoice upload: Transmit invoices created from the webshop or from magnalister to METRO
Together with Amazon FBA, you can automate many Ecommerce processes and save a lot of time managing your multi channel distribution. Get your free 30 day trial of magnalister now including all its core features. After registering your account, send us an email with your magnalister customer number to support@magnalister.com, and receive a free online training worth 199 EUR. Just add the coupon "ECOMMERCEAUTOMATION2019."
Get your free 30 day trial of magnalister now
* Source: https://services.amazon.de/programme/primedurchverkaeufer/so-funktioniert-es.html
** Source: https://wortfilter.de/amazon-marketplace-in-zahlen-55-310-aktive-haendler/
*** not supported by all marketplaces