Sell Products Directly From Your Online Shop — With magnalister Amazon Listing Tool
Explore new markets: magnalister Amazon listing tool lets you connect the world's leading online marketplace to your shop system. You can directly upload products from your online shop to Amazon, automatically import your Amazon orders and manage order status, invoices, and inventory from your backend.
Increase the reach of your shop, gain new clients, and professionalize your sales on Amazon!
Try Amazon Bulk Lister For Free
These Are the Key Features of the magnalister Amazon Listing Software
You're running your own online shop, but you also want to sell your products on Amazon? magnalister is an all–in–one solution for your shop system, which allows you to do business on Amazon with just a few clicks. Our automation processes will make selling even easier. Learn more about our plugin features that were especially customized for Amazon and to make you a successful Amazon seller in no time.
Product Upload: Submit Products Within a few Minutes Using Our Amazon Bulk Lister
Product upload is a key feature within our Amazon listing tool. With just a few clicks, you can introduce your products to Amazon or match them with according Amazon products. You benefit from product matching especially when you haven't assigned an EAN number for your products in your online shop yet. Preferably, you can also create new products and transfer them to Amazon with their own product descriptions, titles, images, and EANs.
Our variant and attributes matching feature will also save you a lot of time when selling your articles on Amazon. As you prepare your products, product variants and attributes are assigned accordingly, so that Amazon will accept them.
Individual Pricing: Our Amazon Lister lets you Sell Products on Amazon with Individual Pricing
You have full control over your pricing: the magnalister Amazon listing software lets you offer the same product for different prices on Amazon and your online shop as well as synchronize pricing across all E-commerce channels. Create different prices via the shop–native price and client groups and choose between percentage and fixed price premiums and discounts for the connected marketplaces.
Stock Synchronization: Keep Your Inventory Up–to–Date via the Amazon Inventory Management Software
Manage your inventory in your own online shop or via your connected warehouse management software while selling on Amazon and many other marketplaces: Our inventory feature synchronizes your online shop stock with Amazon and always keeps it updated.
The magnalister Amazon listing tool accesses the inventory of your online shop and submits your current stock to Amazon. It also works in reverse: through interacting with the order import feature, your online shop inventory is synchronized when you receive an Amazon order. Here, the product ordered through Amazon is matched with the online shop product thanks to a product ID. Because the database of your online shop always remains the main database, linked warehouse management systems can seamlessly synchronize their contents as well*.
We pay attention to every detail: If you currently don't want to sell a product on Amazon; however, keep offering it in your online shop, you can just mark this product as inactive in the magnalister plugin.
Automatic Order Import: Sell Products on Amazon and Manage Orders through your Online Shop
Open an Amazon shop with automated order transaction even easier: import all Amazon orders directly into your shopping system. When you're using the Fulfillment by Amazon (FBA) service, an FBA note will be stored during the order import to differentiate. Additionally, our Amazon listing tool ensures a correct understanding of information — such as shipping and payment method – coming through from the marketplace as well as storing this information within the order.
Through emails templates, you can inform your Amazon clients about their order status — directly from your online shop. You can save your own notification texts (incl. placeholders) in the magnalister plugin.
Order Synchronization: our Amazon Listing Tool lets you Submit Order Statuses from your Online Shop to Amazon
As you know, Amazon clients are able to view their current order status in their account. Amazon also requires this information to ensure that you are a reliable shipping partner. With the Amazon inventory management software, you can submit order statuses such as "sent" or "canceled" directly from your online shop to Amazon. The same applies to the shipping company and the tracking code.
Amazon sellers profit twice from this feature: magnalister has not only simplified the handling, but thanks to a reliable submission of the order status, your chances for a better placement of your products on Amazon increase — imagine seeing your products in the infamous Amazon Buy Box.
Central Management, Intuitive Handling: Create and Manage your Amazon Shop Directly from your Own Shop System
Managing multiple marketplaces such as Amazon manually is a time–consuming endeavor. Save yourself the effort and simply take care of everything from your online shop backend. The user interface of our Amazon listing software has been designed to give you the best overview of your activities on Amazon as well as all other marketplaces such as eBay, Google Shopping, Rakuten, etc.
In case you decide to switch to a different online shopping system, you don't have to worry about leaving magnalister because it's available for all leading shopping systems. And you get to enjoy the uniform appearance of the Amazon lister in all marketplaces.
Do you have more than one Amazon seller account and sell internationally? Simply connect your most important Amazon Seller Central accounts to your online shop through our plugin.
Amazon sellers, who just created their Amazon account, keep telling us that the marketplace occasionally rejects their products during the uploading process. Mostly, this happens because product variants and attributes were not correctly matched during the preparation process. Next to our attributes matching feature, we also offer error reports, i.e. after a failed product upload to Amazon. This makes it a lot easier for the seller to improve the preparation process of their products and to successfully sell their products on Amazon.
Hook Points: Customize Your Amazon Listing Software to Sell Products on Amazon Even More Individually
For specific applications and individualization, we offer customization via hook points and tailoring the magnalister Amazon listing software to meet your needs.  
You want to submit specific product elements, i.e. the product description, to Amazon in a certain way? Or you value certain order information, so that you would like to display that in the backend of your own shop with your own sections? Our hook points are always up–to–date and can be tailored to your requirements**.
Kickstart Your Amazon Shop With the magnalister Amazon Listing Tool Now!
Are you happy with the key features of magnalister's Amazon inventory management software? Then get going and try the plugin now to start selling your products on Amazon. Thanks to magnalister, you can easily start an Amazon shop with only a few clicks and connect it to your online shop**. Our plugin is available for most shopping systems. You can now try magnalister and all its features for free until December 31, 2018.
Try Amazon Bulk Lister For Free
Our Amazon Listing Software Lets You Connect Amazon to Many Online Shopping Systems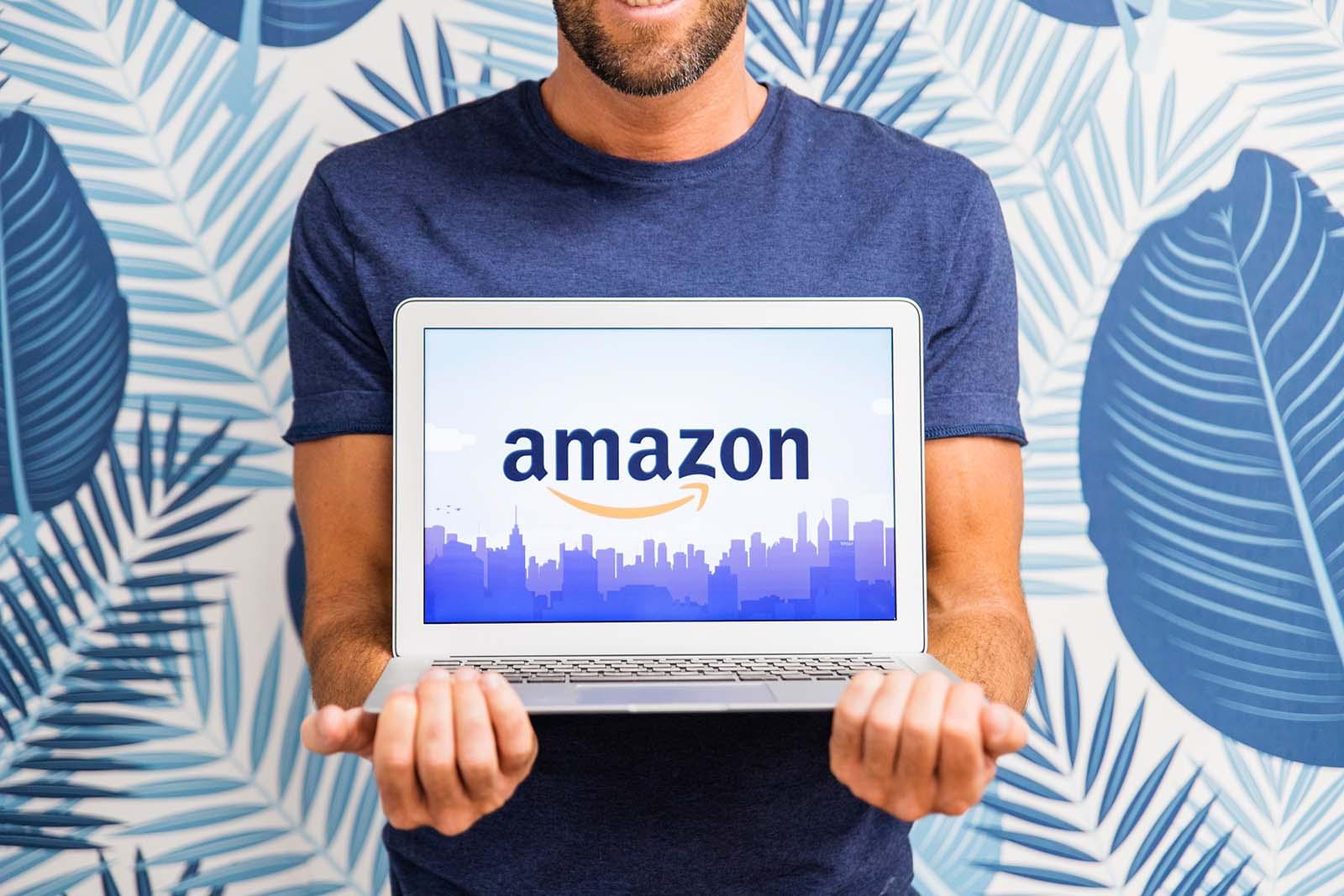 Source: Freepik.com
For years, we've been working together with the leading online shopping system providers to keep developing our Amazon listing tool. It's important to us to offer an all–in–one and fully integrable software solution.
Our Amazon inventory management software can easily be installed as a plugin, seamlessly integrates into your online shop backend, and can access many native features of your prefered shopping system. And if you choose to switch your shopping system provider, you don't even have to get used to a new magnalister interface, because magnalister's look and feel remains the same across all shopping systems.
Currently, magnalister is available for the following shopping systems:
Shopify

WooCommerce

Magento

PrestaShop

osCommerce

Shopware

xt:Commerce

Gambio

modified
Sell Your Products on Amazon Without Your Own Shopping System. Thanks to magnalister PIM.
Sell your products on various marketplaces such as Amazon, eBay, Google Shopping, Rakuten, etc. via a central interface without your own online shop via magnalister PIM.
Hereby, you can access our inventory management software as a so–called middleware, tailored to your needs and hosted on our servers. That's how magnalister becomes the most efficient SaaS solution for your E-commerce.
We Help You Become an Amazon Seller or Professionalize Your Multi Channel Distribution. Personally.
We believe that creating a multi channel distribution system and selling your products on the world's leading online shopping marketplaces shouldn't be hard. That's why we developed this Amazon listing tool. But we also know that whoever is just starting out with E-commerce or increasing the reach of his/her online shop via marketplaces such as Amazon, eBay, etc., has a lot of questions.
Our team of experts is available for you from day one. Already during your trial, you can set up and optimize your magnalister plugin with the help of our support. We will also answer all of your questions regarding opening an Amazon shop as well as connecting Amazon to your online shop. Reach us via phone, e-mail or live chat.
magnalister Amazon Listing Tool: Reliable and Up–to–Date
We collaborate closely with Amazon, the world's leading online marketplace platform. Should Amazon make changes within their selling process or introduce a new feature for sellers, our software is ready for it.
Regular plugin updates for all supported shopping systems as well as informing you about changes on Amazon via our newsletter from early on are all part of our customer service. To find out more about all Amazon–related subjects, simply visit our blog, where you can also find tips & tricks for Amazon sellers to distribute their products.
See what our clients have already achieved because they chose to incorporate magnalister and connect it to Amazon as well as other marketplaces such as eBay, Rakuten, Google Shopping, etc.:
Since 2009, sellers have

uploaded more than 70 million products

to marketplaces such as Amazon, eBay, Rakuten and more.

More than

2,2 billion Euros

in order imports have been processed through our inventory management software

Thanks to the marketplaces magnalister allows you to connect (including Amazon), sellers have reached more than 110 million international clients
Are You Ready? Start Selling From Your Online Shop to the World's Leading Marketplaces With magnalister Listing Tool.
* Feature description may vary according to connected third parties (i.e. warehouse management systems)
** Individualising via hook points requires programming knowledge
*** Creating an Amazon Shop requires an Amazon Seller Central account