How to Use Shopify: All Features at One Glance
Shopify surely is one of the most efficient shop systems on the market. Already with its "Basic Shopify" version, merchants are provided with a full-featured Shopify online store. Setting up a shop is quick and simple and even Ecommerce beginners will find it easy to manage.
As soon as your demands are increasing, more Shopify features can be added. Well-advanced users can take advantage of Shopify's two upgrades "Shopify" and "Advanced Shopify." For wholesalers and corporations, "Shopify Plus" offers special feature depending on their business size.
Now what is Shopify? Shopify is a fully equipped shop system with which you can perform nearly any online trading process. Shop operators can
set up

and

manage products

in their shop backend

organize orders

and

customers

create

promotions

(i.e. discount codes)

link new

online distribution channels

handle

product shipping

and

payments
integrate their Shopify Point of Sale Store into their Shopify surface.
Unlike most of their competitors, Shopify offers its shop system as a Software-as-a-Service (SaaS) solution. This means that merchants don't have to host, secure and update their shop system on their own servers anymore. Merchants thus save acquisition costs for IT infrastructure as well as installation fees for a web shop on their own servers.
Instead, Shopify offers according server capacity and performance as well as unlimited bandwidth to run your web shop for a monthly flat rate. This unique selling point definitely deserves mentioning because it makes it extremely easy for merchants who are just getting started with Ecommerce.
But how to use Shopify and all its features as a storefront? Starting already with Shopify's "Basic" version, you can customize your storefront with design templates — so-called themes. These (sometimes free) themes are available in the Shopify Theme Store and let you adjust fonts and colors as you wish or use your own logo.
Shopify's features also encompass tools to simplify and optimize processes. "Shopify Payments" has been introduced as the company's very own payment interface, which, unlike external payment providers, does not require complex configuration. An image editor also comes pre-installed, so that your webshop's images are displayed correctly. The appearance of Shopify sites on Google can be checked and customized via SEO preview.  
Merchants who need more than Shopify's standard features can purchase more than 2,200 plugins from the Shopify App Store. Here's one example: The magnalister marketplace app for Shopify lets you massively increase the reach of your products. This app links the world's biggest national and international marketplaces such as Amazon, eBay, Etsy, Google Shopping, etc. to Shopify. Find out more about the core features of magnalister in this article's last paragraph.
The rest of this article will get into detail about what Shopify is, how to use Shopify and its important features — from installing a shop to managing products, orders, and customers. You will also learn about Shopify's design, marketing, distribution and reporting features, payment and shipping operations.
1. How to Use Shopify to Set up Your Shop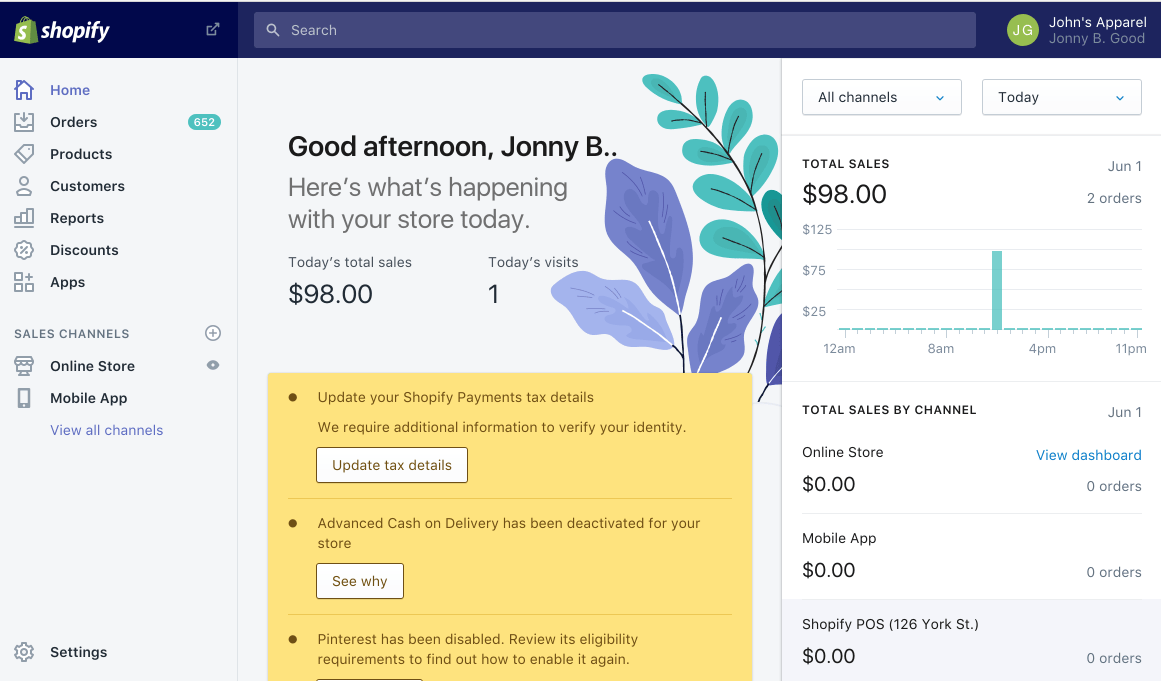 Source: Shopify Website
Directly after registering, you will encounter Shopify's first core feature: a functional shop backend, which you will be able to manage immediately and fill with products. Because Shopify stores are designed as Software-as-a-Service (SaaS) solutions, Shopify takes care of hosting and maintaining your shop.
When running a Shopify store, you will want to have your own domain, of course. During set-up, you can choose whether you want to directly register a new domain in the shop backend, transfer your own (already existing), or merely connect an external domain. Shop operators starting from scratch can open a domain immediately from within the Shopify ecosystem and use it for their shop.
If you register with Shopify, you are able to test all Shopify features for free for 14 days. Only after this trial will you have to upgrade to a paid version.
2. Creating, Managing and Optimizing Products – These Are the Most Important Features of a Shopify Store
Under the main menu tab "Products" you can add products into the Shopify backend. You can add information such as product descriptions, images and attributes. To reduce maintenance effort and create product variants, Shopify allows you to duplicate products.
If you're switching over to Shopify from another web shop provider, you will find useful tools, such as the product import feature and the bulk editor to transfer products and simultaneously make changes. Products can also be marked with tags based on which Shopify derives categories as needed.
Initial distribution and marketing features are included as soon as products are created. You can choose the appropriate distribution channel and will be shown how your product will be displayed on Google via the so-called search engine snippet. How to use Shopify's SEO preview can be viewed here.
In case you want to store specific identification numbers such as UPC, GTIN, EAN, or ISBN, you can scan your products with Shopify's free Barcodes app, which directly transfers these products to Product Management.
Product Management encompasses inventory tracking as well. Shopify sends a notification as soon as more products have to be ordered or produced. An inventory timeline is also included, so that you can chronologically follow all of the product's inventory changes.
3. How to Use Order Management in Shopify: From Manual Orders to Fraud Analysis
Shopify allows merchants to manage their orders on the order status page. Here, email templates (i.e. order confirmations) can be customized; orders receive a payment or tracking number; order status updates can be sent to customers via text message; and personal notes for clients can be added. Translating standard texts based on the customer's country of origin is also possible.
During further processing of orders, payments can be recorded and delivery notes prepared. If a customer cancels an order online, his/her order is automatically cancelled within the Shopify store. Orders can also be cancelled manually or rejected.
Shopify additionally provides a fraud analysis for orders on board. A Shopify algorithm evaluates orders and shop operators receive a checklist to determine a case of fraud.
Shopify's order management comes with these extra features:
Conversion overview:

Know where customers come from

Canceled checkouts

: marketing tool to

recover abandoned carts
Already Shopify's "Basic" version lets you automate many of these aforementioned order features.
4. How to Use Shopify to Manage Customers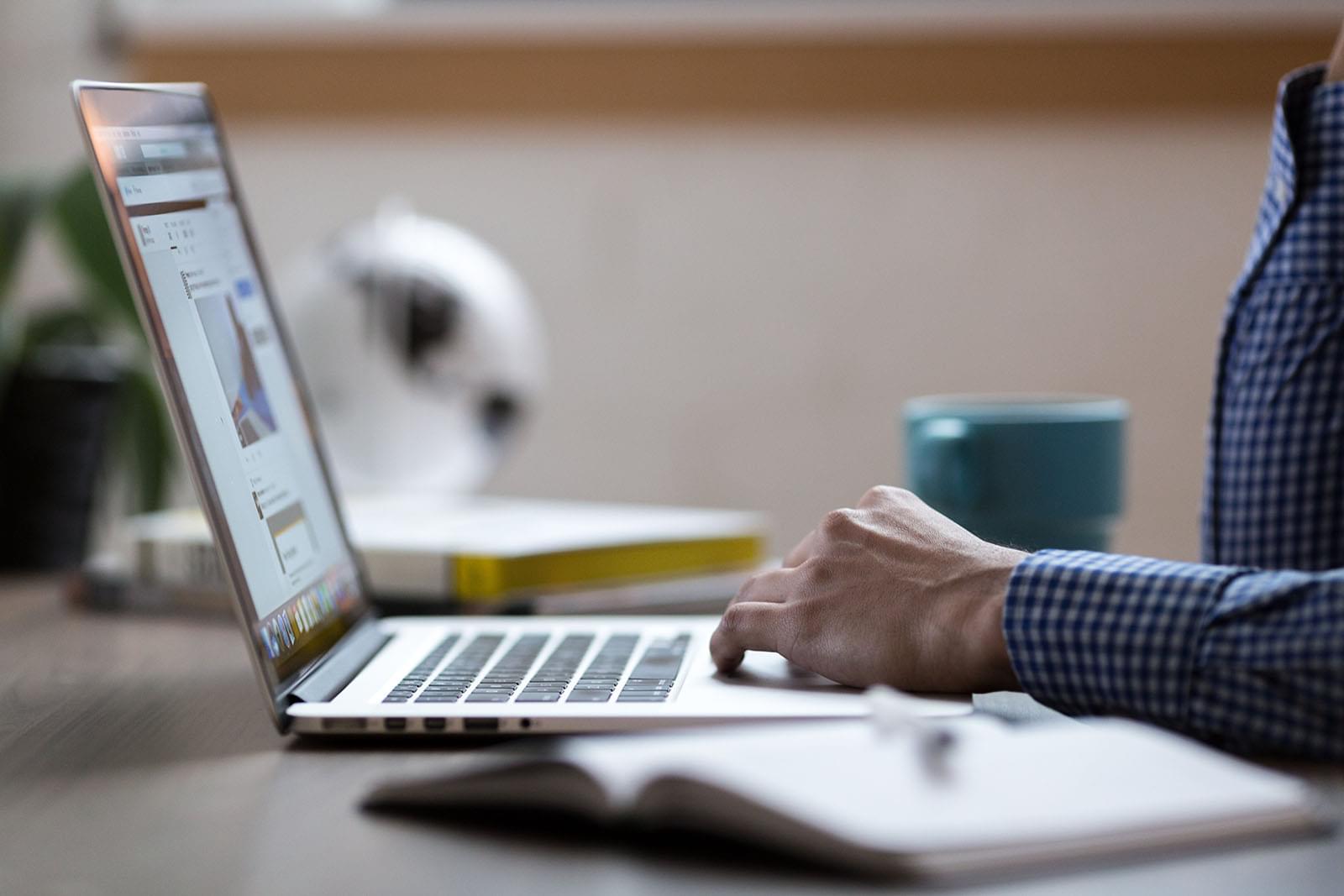 As soon as orders enter the web shop, your customer list grows. Customers can order as guests or sign up with an account for your shop. In both cases, a new bullet point on a list manages customers. Shopify also allows you to manually create accounts for your customers.
Furthermore, you are able to determine whether or not customers receive promotions or they have to pay VAT. Customer data can be processed, for example with customer notes or tags. Bulk editing lets you make changes to several customer profiles simultaneously. Customer groups can be created within customer lists.
If you use marketing measures outside of your Shopify store to generate (potential) customers, the import feature allows you to add them into your Shopify customer list. Customers who chose not to open an account while ordering can later be motivated to do so via email.
As a Shopify store operator, you can deactivate or delete your customers' accounts and reset their passwords.
5. How to Use Shopify Reporting Features
The overview dashboard is where you find all kinds of reports, starting at Shopify's "Basic" version:
Average order value

Conversion rate of online shop

Online shop visits according to device, traffic or social media source

Returning customers

Revenue according to POS location, social media source, staff member, or traffic source

Top landing pages

Top products according to sold units

Top referer according to sessions

Total sessions within the online shop

Total orders

Total sales

Total sales via marketing campaigns
Besides these aforementioned reports, you have access to a live view. As the name says, this shows live statistics, for example how many visitors are currently surfing in your shop, page views of the last few minutes, and the current status of your customers (active carts, checkout, etc.)
As mentioned before, you will receive access to additional statistic options when purchasing the "Shopify" version: sales and revenue reports as well as comprehensive customer reports. "Advanced Shopify" users can create user-defined reports and thus completely individualize their tracking.
And if Shopify's native statistics are still not enough for you, you can integrate Google Analytics as a tracking tool.
6. How to use Shopify Features to Create a Professional Storefront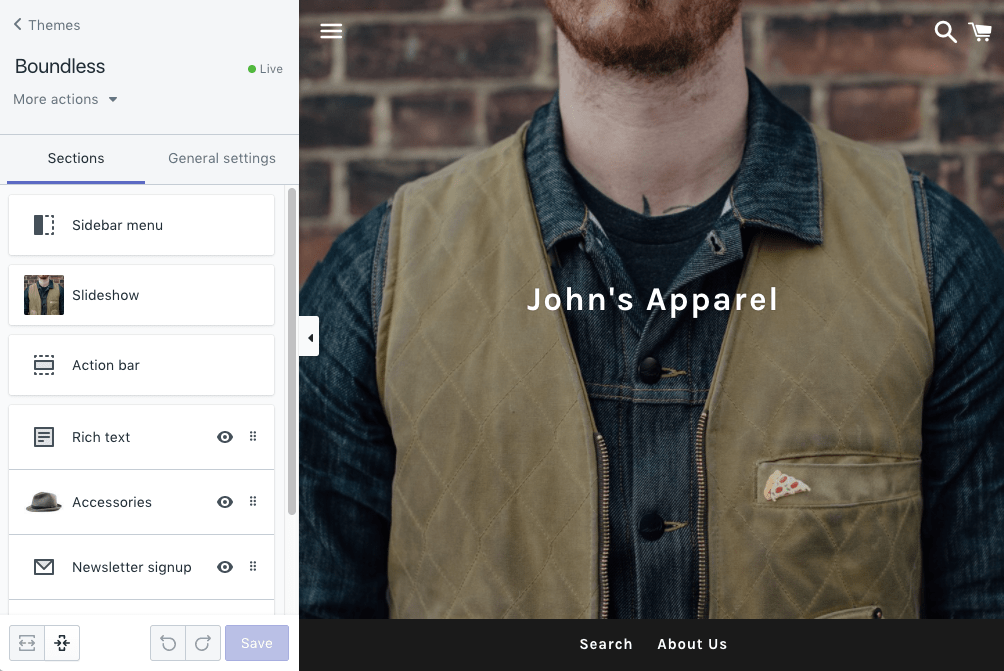 Source: Shopify Website
The appearance of a Shopify store is significantly impacted by the chosen theme. A theme is a design template which determines the layout and style of a web shop. You can install pre-built themes. 100 free and paid theme options are available in the Shopify Theme Store. Before activating any of them, you can preview.
The Theme Editor customizes your selected theme. You can swap images, alter content, add marketing features such as newsletter registration, and change fonts and colors. You can also adjust your footer and header including its menu structure. The Theme Editor has the following advanced features:
Create

static and dynamic content sections

Choose an appropriate

image for social media channels

Integrate

dynamic checkout buttons
Change title and meta descriptions of theme pages
Edit content

and translate it into various languages

Add free stock photos

from Shopify's own image portal "

Burst

"

Translate

your theme into

different languages
If you are an online shop operator who is just getting started with his / her Shopify store and want to make your URL already available, use the "password protected page" feature. Clients won't be able to buy from your webshop yet; however, they will see a (customizable) landing page, for example, with a "Coming Soon" text.
7. From Batch Processing to Timelines: How to Use Shopify's Productivity Tools
Barely any other webshop system out there will offer you as many productivity tools as Shopify does. These useful features accelerate the trading process and make it more efficient. Shopify stores offer the following natively integrated productivity tools:
Import and export huge data sets

(i.e. products, orders, customers) via CSV

A

rich text editor

which lets you easily customize and format content (i.e. product descriptions, shop pages, blog posts)

A

bulk editor

with which you can change huge amounts of product, order, and customer data

An

image editor

which lets you optimize uploaded pictures (crop; change contrast, exposure, balance, colors; add drawings, etc.)

A

schedule

to publish products, shop pages or blog posts

Shortcuts

thanks to which you can navigate through your Shopify backend without using your cursor  

Tags

that allow you to mark and later categorize or filter products, oders, customers, or blog posts

A

timeline

that chronologically records all order processes and customer behavior and where you can add internal notes
But these above-mentioned productivity tools, that are already included in Shopify's "Basic" version, are not it. All merchants can access additional free tools such as a slogan generator, business card designer, image resizer, product margin calculator, and invoice templates.
MAGNALISTER 30 DAYS FREE TRIAL
8. Offer Various Payment Methods in the Shopify Store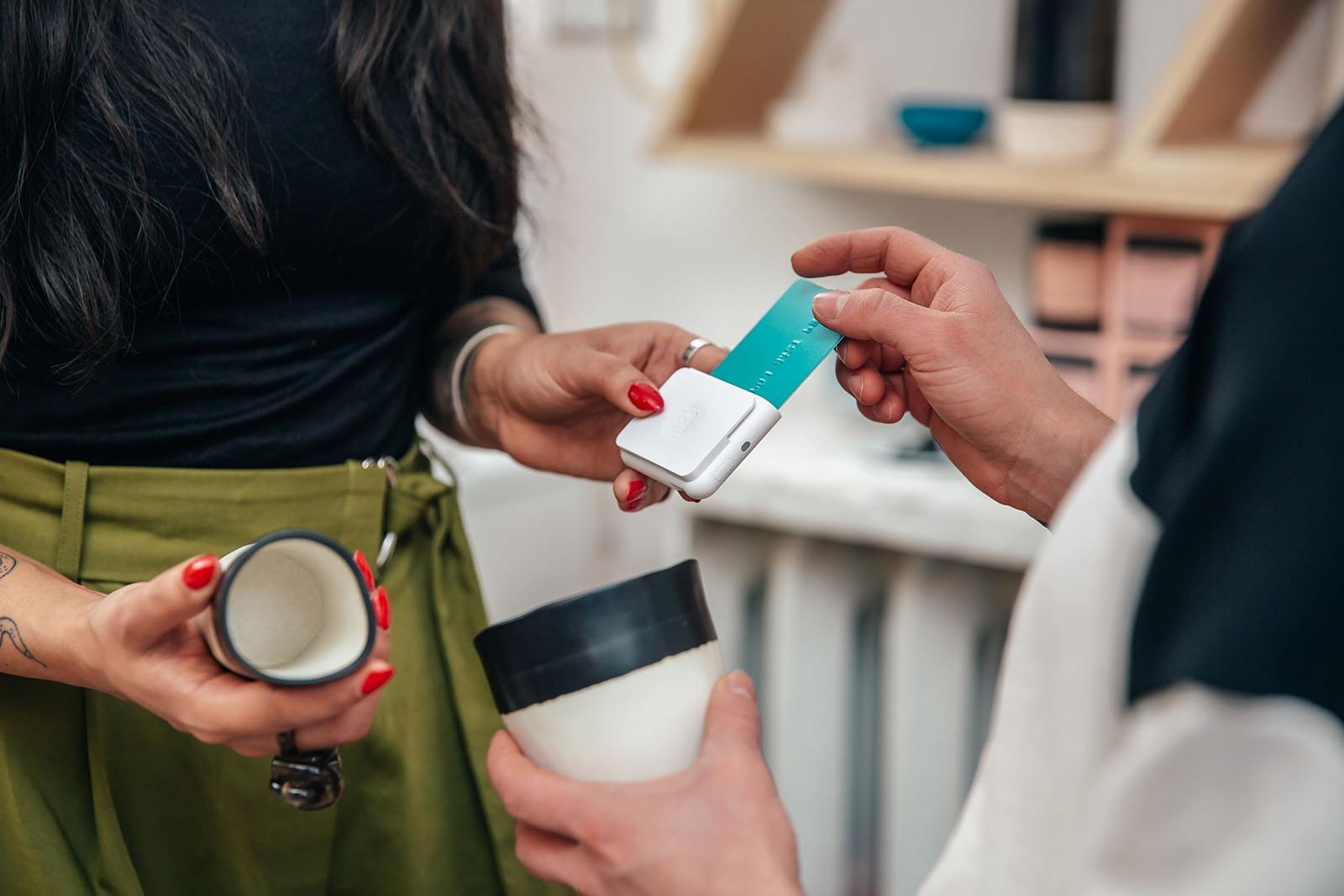 Shopify offers two options to connect payment providers to your webshop. "Shopify Payments" is the easiest one because it is a Shopify-native pre-integrated payment interface that accepts mainly credit card payments. In English speaking countries, major debit and credit cards such as Visa, Mastercard, and American Express are accepted.
To use "Shopify Payments," you have to pay percentual transaction fees, which vary according to your Shopify version. You can view these fees in the Shopify dashboard under "All payments." "Shopify Payments" supports features such as test payments and reimbursement management.
The second option to process payments in your Shopify Store is to connect external payment providers. You can find a list of all external payment providers for the US market here. And what about PayPal? Of course, you can connect the world's leading online payment providers. As soon as you open a Shopify store, you will receive a PayPal Express Checkout Account from Shopify including an email address.
Merchants love Shopify's additional feature to prevent fraud. Automatic algorithms check if suspicious orders have been placed. So how do you use Shopify to prevent fraud? In the order details, Shopify informs you that the order may be fraudulent and suggests further verification steps, such as matching invoice data or localizing the IP address.
9. From Dropshipping to Shipping Zones – How to Use Shopify Shipping Features
How to Use Shopify Shipping features? There's not just one answer to that. You can save shipping costs for each product individually. Of course, you're also able to offer your products without any shipping costs.
Another, less time-consuming way to determine shipping cost is to establish so-called shipping zones. With these, you specify shipping costs only once per sales region, i.e. per country, continent, or individually selected zones. Your customers are issued these shipping fees after they have entered their delivery address.
"Shopify Shipping" is a feature that simplifies shipping and optimizes shipping costs even more. Shipping costs are automatically calculated based on weight, size, and value of the product and processed to US Postal Service, Canada Post, DHL Express or UPS via an interface connection. You can generate shipping labels inside the Shopify store and print them.
"Dropshipping" is a relatively new option to handle the fulfillment of goods. An external service provider takes care of the whole fulfillment process. Shopify maps this process via "Shopify Dropshipping." If you wish, you can also have an external provider take care of some fulfillment steps such as warehousing and shipping. Besides "Shopify Dropshipping," you can add other fulfillment providers, for example "Fulfillment by Amazon" (FBA).
10. How to Expand Your Functional Scope With the Use of Shopify Apps
Ever since Shopify's app store opened in 2009, one of the largest offers for Ecommerce apps has been created.
Some of these apps are provided by Shopify free of charge. A few examples of these are the KI-supported virtual assistant "Kit", an app to review products, the Shopify POS app, which is essential for brick and mortar businesses, or an app to distribute digital products (digital downloads).
The majority of the 2,200 apps within the Shopify app store are manufactured by third party providers. Most of the time, providers make these available for a fee or based on subscription. The functionality of a Shopify store can be enhanced with apps for product management, distribution channels, store design, marketing, customer support, finances or reporting.
Shopify offers merchants a practical bonus feature: "Collections" allows you to find a set of thematically suitable apps for every step of your Shopify store evolution (launch, expansion) as well as plugins that are available in German, French, and Japanese.
11. Boost the sales of your Shopify store via new distribution functions
Gaining customers does not happen just like that – even if you have the most progressive shop system. That's why you should think about distribution channels you want to use with Shopify. Selling your web shop products on other online marketplaces such as Amazon, eBay, Etsy, Google Shopping, etc. is also an option.
Imagine you could sell your products to millions of potential customers who are specifically searching for them, not just to the customers of your web shop for which you have already invested into marketing measures such as ad campaigns or content.
Here's how to use multi channel distribution in Shopify: the magnalister app is one of the most efficient options to quickly sell your products on national and international marketplaces. With just a few clicks directly from your Shopify backend, you can sell your products on Amazon, eBay, Etsy, Google Shopping and many other marketplaces.
magnalister offers the following core features – most of them automated:
Product upload

to online marketplaces directly from the Shopify backend

Synchronize prices

between Shopify and marketplaces

Update your shop inventory

among all distribution channels

Submit order status changes

(such as "sent" or "canceled") from Shopify to the marketplaces

Match product attributes and variants

with those of the other marketplaces

Customize

the interface via hook points
Find out more about the magnalister app and about its seamless integration into Shopify on our interface page.